h2testw
h2testw is a program for checking the speed and memory capacity of flash drives, SD cards and HDD
Are you tired of purchasing a storage device that claims to have a certain amount of storage space, only to find out that it falls short of your expectations? Fortunately, there is a solution to this problem, and it comes in the form of a freeware program called h2testw.
H2testw is a program developed by Harald Boegeholz that can test your storage devices for their actual size, as opposed to what is advertised. The development of this tool was a response to the proliferation of counterfeit SD cards and USB sticks that did not match the advertised size.
The program is incredibly easy to use, and it can be downloaded and installed on your computer free of charge. Once you have installed H2testw, all you have to do is plug in your storage device and select it from the program's interface. Then, you can start the testing process, which will scan your device for its actual size and check for any bad sectors.
One of the best things about H2testw is that it can test a wide range of storage devices, including USB sticks, SD cards, and hard drives. This means that no matter what type of device you are using to store your data, you can use H2testw to ensure that it is functioning properly and has the amount of storage space that it claims to have.
Another great feature of H2testw is that it can provide you with detailed information about your storage device, including its read and write speeds. This information can be incredibly useful if you are looking to optimize your device's performance or if you want to compare the performance of different storage devices.
H2testw is also a great tool for anyone who is concerned about the security of their data. By checking for bad sectors on your device, H2testw can help you identify any areas of your storage device that may be prone to data loss or corruption. This can be especially important if you are using your storage device to store sensitive information, such as financial data or personal documents.
In conclusion, if you are tired of being duped by storage devices that do not live up to their advertised size, H2testw is a must-have tool for your computer. With its easy-to-use interface, wide range of supported devices, and detailed information about your storage device, H2testw is the perfect tool for anyone who wants to ensure that their data is safe and secure. So, why wait? Download H2testw today and start testing your storage devices like a pro!
Features
lightweight and portable
simple interface
scanning different types of drives
performance degradation detection
detection of reduced disk capacity
compatibility with all versions of Windows
Download h2testw
| | |
| --- | --- |
| File name | h2testw_1.4.exe |
| Latest version | 1.4 |
| License type | Free |
| Size | 409 KB |
| Developer | Harald Boegeholz |
| Last Update | May15, 2023 |
How to use h2testw?
If you are worried about your memory card reporting larger than its real capacity, the next test using the free H2Testw tool is going to identify such cards. Please note that the test is going to take time – the tool must go through each sector as it writes data, then it has to re-read and verify all that information. So if you have a large capacity memory card that is very slow, it could take hours to complete.
Copy h2testw.exe from the h2testw .zip to your desktop
Insert your SD card into your computer
Run h2testw.exe
Select "English"
Click "Select target"
Select your SD card's drive letter
Ensure "all available space" is selected
Click "Write + Verify"
Wait until the process is completed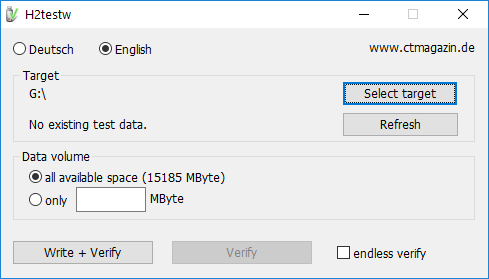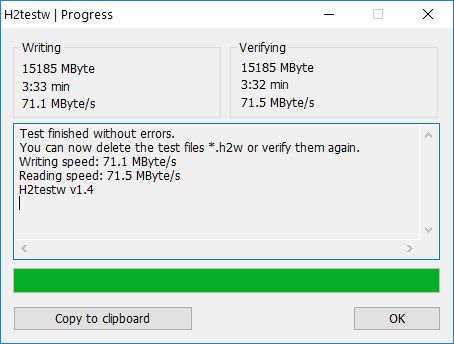 If the test shows the result Test finished without errors, your SD card is good and you can delete all .h2w files on your SD card
If the test shows any other results, your SD card may be corrupted or damaged and you may have to replace it!
FAQ